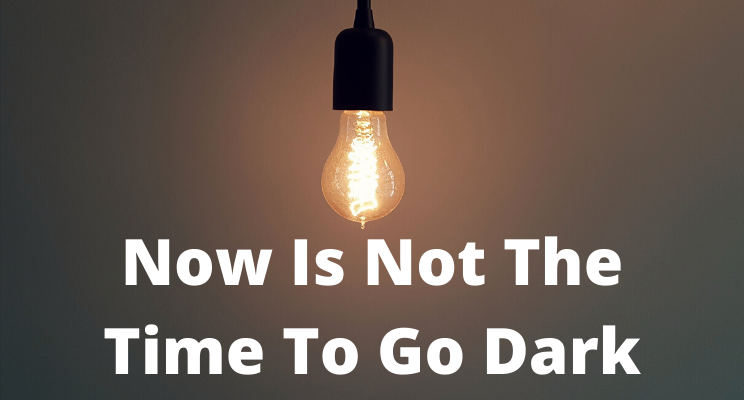 It's time to ramp up your communication.
Right now.
To everyone.
It doesn't matter if you don't have answers for all the questions. It doesn't matter how you do it. What matters is that you're making a critical connection.
If you're a manager, your employees are wondering what is happening at the top of the organization. Is strategy changing? Are jobs impacted? Are paychecks in the pipeline? If you know the direction that things are moving, make sure everyone knows. And if you aren't sure because things are changing daily, tell your staff that as well. Remember, in the absence of information, people's imagination runs wild and they're likely to assume the worst. Sure, some of your staff will be frustrated because you don't have answers, or can't assure them that the decisions made today will hold through tomorrow. Still, it's better to hear something than nothing.
Even a simple email can help people feel connected.
And that connection is critical. As I mentioned in a previous post, a Harvard study found that people working from home already feel isolated and out of the loop. Now that so many people are working away from their office, those problems are likely to increase.
If you have employees who are still coming into the office or going out into the community, let them know the latest about any changes in the organization's strategy or plans. Make sure they're aware of news about health issues and how they should react or prepare. Most importantly, make sure they know you appreciate the work they're doing.
This is a great time to remind your staff why their job matters. Explain how their work is making a difference. Let them know how their daily tasks fit into a bigger picture. Even if it's not the kind of job considered critical to daily survival, their work is part of something larger and reminding them of that is a morale boost.
And what if you're not a manager or executive? You need to increase your communication as well. Let your supervisor know what you're working on or how much you accomplished today. Don't assume that just because you haven't heard something from above, nothing has changed. You can do it without pestering or whining. Just remember that your manager is probably feeling just as isolated as you.
Reach out to your co-workers as well.
Most of us are used to that daily contact at the office and now it's gone. A quick message to ask how someone is doing reminds them that they're not alone. Besides, most of our projects are collaborative. We need input from others. Make sure that you communicate with others so that when you get back to work you won't have to scrap something because your co-workers weren't included.
Don't just think about. Make sure it happens. You can actually schedule something in your calendar to make a call or update your team on how you're doing. Face it, we all mean to do the right thing but sometimes we forget or get distracted.
The reality is that communication is always a weak point for any organization. Poor communication costs money and stalls careers. And that's when things are normal. Throw in these extraordinary times, and the impact of not communicating properly will be even greater. And the reward of doing it well could be impactful on your career.
So communicate. Do it today. Do it more often. You need it just as much as everyone else.
Need help improving your organization's communication? Reach out to me at www.RickDeBruhl.com.